About 10 years ago, Jennifer began freelancing out of her house on the side to help keep the lights on at the Ware house. She kept her real jobs until she had her first little baby, and bravely offered to quit the best job she's ever had to work from home full time to take care of the chickens*. To this day, she's (in partnership with the "Z ware" of Zenware Designs) still keeping the lights on at the Ware house, and the chickens are still pitter pattering around the homefront. Good stuff.
When choosing our career paths, our family advised us on many accounts, but the one that stuck was "Do what you love." I (Jen) knew right away what I wanted to do. And though my parents probably thought I was insane to major in art, they whole-heartedly supported my decision. Little did I know that I would be able to be blessed enough to be able to balance a home-based career and family. That said, our company is family-centered, creative, and fun. We'll sit and chat with you about your company, your needs, goals, and where you see yourself in the future, before helping you establish your identity. Jen's passion is illustrating cute, whimsical themes, but can carry a corporate tune just as well. From print, to web, to learning and exploring the in-betweens, we try to broaden our horizons, growing to keep up with the quickly changing world.
Please feel free to contact us at any time - we'd love to hear from you! If you would like to speak to us in person, please send us an e-mail so that we may schedule an uninterrupted telephone call, or you may be subject to hear splendid ideas or dramatic discoveries in tiny little background voices.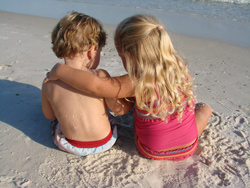 ________________________________________________________________________________________________________

*Why do you call your children "chickens'?

Easy! Some of my greatest memories from when I was a little girl were spending time at my grandmother's little yellow house in the country. My grandfather raised chickens and loved to send his toddler grandchildren (including me) to the coop to gather eggs. He would just laugh as he watched us run from the overprotective hens. He loved those silly little birds, and my mother certainly loved him. In fact, I'm pretty sure my mom coined the term "chickens" (I'm guessing) because she knew about her father's chicken adoration!

With that said, my parents cherish their families, and have taught me well to do the same. In fact, I think that my mother is happiest when all of her little "chickens" are home. So, in honor of her, and of all of the moms out there who wish they could be home with their babies when they were little, I lovingly call my small fries "chickens."